How to - Mail - Connect to FSU Exchange Server
Connecting Mac App - Mail to the FSU Exchange (email) server may be a simple process with some basic information.  We hope this guide helps you connect your system to FSU's Exchange server.
Please follow these steps:
Click on the Apple in the upper-left corner of your Desktop.

Hover over and click System Preferences...

Click the icon Internet Accounts.

Click the Exchange option, located below iCloud.

Enter your FSUID Account Information when prompted:

Name: <Your Name>
Email Address:<fsuid@admin.fsu.edu>

NOTE: all @fsu.edu email accounts are aliases of the @admin.fsu.edu address, in order for Mail to recognize and properly setup the server, your email address must be @admin.fsu.edu.

Password:<your fsuid password>

Click Continue.

Wait while Mac Mail attempts to contact and configure the client according to the Exchange Web Service (EWS) server settings.

You should now be brought to an Account Summary screen, review and make sure everything looks correct, click Continue to move on or Go Back to make adjustments to the previous screen.

Finally, you will be brought to the Exchange Web Services (EWS) selection screen, select what you'd like to connect your Apple Mac to and when finished, click Finish.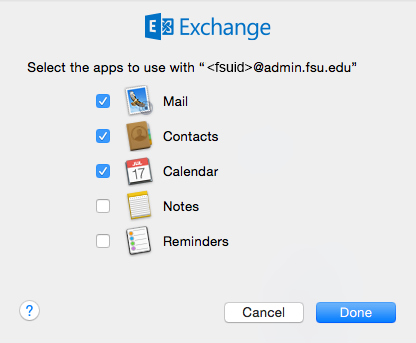 Mail - connects email to the Mac Mail App
Contacts - connects the Global Address List of the EWS server to the Contacts App
Calendar - connects the EWS calendar to the Calendar App